​                                                                             C A R R O L L   C O U N T Y 

                         - R E P U B L I C A N   W O M E N - 

                                     . . . Making a difference in Carroll County

We are an army of Republican Women that support the Republican Party Platform and work towards growing new Republican leaders at all levels of government.

                                                        2016 thru 2021 have already been making History!  

                                                        What will you do to be a positive part of that history in 2022? 

                                                        Make a difference and grow our freedoms.

Bring a friend to join our Club TODAY!

For more information, contact us at our website link above:  click "Contact Us"  

Benefits of Membership

Networking with women who share similar interests and concerns.

Meetings with informative and educational programs.

Becoming active in our community/county and positively impacting the county and country.

Meeting local, state and national Republican women.

Meeting Republican Party leaders.

Automatic member of the IFRW (Illinois Federation of Republican Women), and the NFRW (National Federation of Republican Women).

Newsletter and information from local club, state and national federations.

Access to training in leadership, working on campaigns and opportunities for involvement.

Stay Informed!  Get Involved Today!​

Will YOU Join Us?

2022 is a pivotal year!  

Join thousands of Republican women across the nation in building leaders, energizing communities and keeping America strong! 

We welcome all Republican women and hope you will join our network. Help us make a difference in our Carroll County communities and beyond.

Share the Vision...Join Republican Women

* CCRW 2022 Membership Campaign! *

It's FAST & Easy!  Submit your application by printing the application below and mail - OR -  The Membership Committee is able to accept cash or a check in person at the luncheons.



M e m b e r s h i p   C h a l l e n g e

E a c h  O n e - B r i n g  O n e

 W A T C H   U S   G R O W !

Keep in Mind...

Growth  =  Members  =  Strength  =  Votes  =  

Republican Majority

"All that is necessary for the triumph of evil is that good men do nothing."

Membership  

Remember to Renew Your Membership!

Luncheons are a great time & place to renew, but you are also welcome to mail your form/check payable to CCRW to:

 Patti Hiher, 401 East Lincoln,  Mt. Carroll, Illinois.  61053

Basic dues are $30, but we encourage you to consider joining at a SUSTAINER LEVEL. The extra funds are very much appreciated and help us to reach out into our Carroll County communities.  

Our organization grows by invitation, so please invite your friends to our meetings, too.

SUSTAINER LEVELS are:

Contributing - $35

Gold - $40

Diamond - $45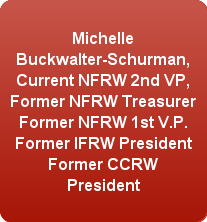 Cloudy Days...

April Eberle, Sunshine Chair

If anyone knows of a 

CCRW member

who is sick or has passed 

or just needs a cheerful note, 

please contact April Eberle 

with their address so a 

personal card can be mailed. 

Thank you.

* C O M M U N I T Y   S E R V I C E *

"Caring for America" Projects

- Food/monetary donations to local food pantries; 

- Thank you notes/snacks to honor Law Enforcement and other first responders

Literacy Project / Maimie Eisenhower Literacy Project (MELP)

- Book donations to local public libraries 

CCRW Scholarships 

- Scholarships for high school seniors

* C O M M U N I T Y   I N V O L V E M E N T *

JUNE:    Old Settler's Parade . . Lanark

JULY:     July 4th Parades . . . . .Mt. Carroll & Savanna

AUG:      County Fair . . . . . . . . . Milledgeville

SEPT:     Labor Day Parade . . . . Shannon



Membership Committee

Chair:  Patti Hiher; Co-Chair:  Diane Bradbury

Joining a local club is a great way to participate in the political process at the grassroots level, develop leadership skills and network with women in your community.

Members of Carroll County Republican Women are automatically members of the Illinois Federation of Republican Women and of the National Federation of Republican Women.

Dues at the local level vary, but will include state membership dues (IFRW), which are $10.00 per member per year; and national membership dues (NFRW), which are $20.00 per member per year.

We welcome you to join us today!

Stay Informed! Get Involved Today!

CCRW conducts general membership meetings on the 4th Thursday of February, April, June, September and October, and we welcome members and guests to attend these meetings. You will have the opportunity to meet many vibrant women who are making a difference in our Carroll County communities. NOW is not the time to sit on the sidelines. Decide how you can become involved and then JOIN CCRW!

Submit your application by printing the application below and mail to: Patti Hiher, Membership Chair, 401 East Lincoln Street, Mt. Carroll, IL 61053


Additional Benefits of Membership

* Community Service

* Timely Projects

* Inspiring, Challenging Speakers

* Meet and Greet with Candidates

* Annual Legislative Visit Opportunity

* Fund-raising Initiatives

* Voter Registration Drives

* Networking and Relationships

* Opportunities to Grow and Serve